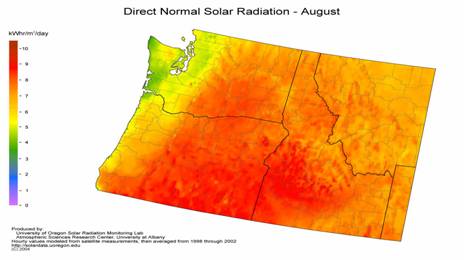 Solar Energy is Oregon 's most abundant energy resource!
The Portland , Oregon area has annual solar energy about equal to the average of solar radiation throughout the United States . While the Portland climate is very cloudy in winter, it is very sunny with low humidity throughout the 4 month solar "summer", which spans from June through September. Portland boasts annual solar energy which exceeds most of Europe and Japan , and exceeds that of New England, the Middle Atlantic States south to Virginia , and the upper Midwest !
The University of Oregon Solar Energy Center reports that solar energy is, by a substantial margin, Oregon 's most abundant energy resource. Its capability to produce electricity, heat and light for buildings exceeds that of all other energy resources in Oregon , including hydro and wind.
To obtain solar radiation data from the monitoring site located at Cascade Solar offices, go to http://solardat.uoregon.edu/SolarData.html and select the Portland site data.
Cascade Solar hopes to make solar radiation data available in future construction of this Web site.