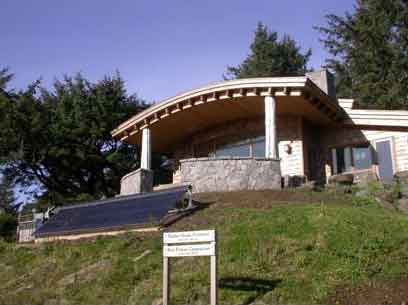 Cascade Solar Consulting provided consulting and design services for the owners and served on a team of leaders in sustainable design and construction. Architect Nathan Good assembled the team of experts, including CSC, the Oregon Department of Energy, the Oregon Institute of Technology, and Solarc to comprise the energy team.
The home's solar features specified by Cascade, included a 5.9 kW photovoltaic array laid out on a curved roof, and a 90 Thermomax evacuated tube solar heating/water heating system.
The builder, Rich Elstrom w on the 2005 National Association of Home Builders' "Green Project of the Year" Award in custom home category. The home has also r eceived award from the Portland Design Festival for its contribution to sustainable development. The project was also a featured project at the US Green Building Council's 2004 GreenBuild conference and awarded a Platinum (highest level) certification by the Earth Advantage© Rating System.